INTERVIEW WITH A NORDIC DESIGN EXPERT
Meet Julie Marie Kjersem, a Danish-Norwegian expat who never planned to move to Zurich but ended up in Switzerland ten years ago, when she relocated here for work. After her daughter was born, she decided to pursue her life-long passion for interior design and opened up her very own store and webshop - House of Gefion. With that, she finally brought the fascinating world of Nordic design to Zurich. To find out more, The Trip Boutique met up with Julie and picked her brain about interior design, furniture, and the art of creating a cozy home.
Have you always been interested in furniture and design?
I think so, my parents are also very interested in design and they passed that interest down to me. In Denmark everyone grows up with a certain appreciation for interior design, it's ingrained in our culture and almost part of our DNA!
Why do you think design is so important in Nordic countries?
In Scandinavia, the winter months are long and dreary and everyone is looking for a place to cuddle up. Nordic people are eager to create a cozy home because they are forced to spend a large portion of the year inside. There's also a rich culture of inviting people over for dinner and, apart from sharing delicious food, offering them an aesthetic, homey environment. Design can help build a place of refuge when the prospect of going outside is anything but inviting.
What inspired you to open up an interior design store in Zurich?
I've always missed Copenhagen's hip stores in Zurich and I think that many furniture stores in Switzerland could be bolder when it comes to their selection. Stores in Denmark dare to showcase controversial pieces. So that's why I thought it could be cool to import furniture from Copenhagen. I felt like there was room for something different in Zurich and I knew that I would regret it if I didn't at least try to transform my vision into reality.

Julie in her store
What is the concept of House of Gefion?
My store is a one-woman show, I orchestrate everything myself and the furniture and design pieces I import from Copenhagen reflect my style and taste. I like bold, colorful designs with high-quality production. I admire the craftsmanship behind great furniture and it's nice to know that a specific piece has been produced in Denmark or Europe. Sustainability is also one of my core values. I look for sustainable, certified wood that is connected to programs where a new tree is planted for every tree that gets cut down. Simply put, my passion or goal is finding furniture that lasts a lifetime.
Your store is named after the Viking goddess Gefion, could you tell us more about how and why you chose that name?
After I decided to open up my own business, I was searching for the perfect name. I contemplated something like Nordic Design and Living but the creative punch was missing. One day in Copenhagen, I went for a run and passed by the statue of Gefion. My dad used to tell me the story of the fierce Gefion, who transformed her sons into bulls to plow the island of Zealand (where Copenhagen's located) out of the mainland. I decided House of Gefion would be the perfect name, providing a strong connection to both Copenhagen and the purpose of my store.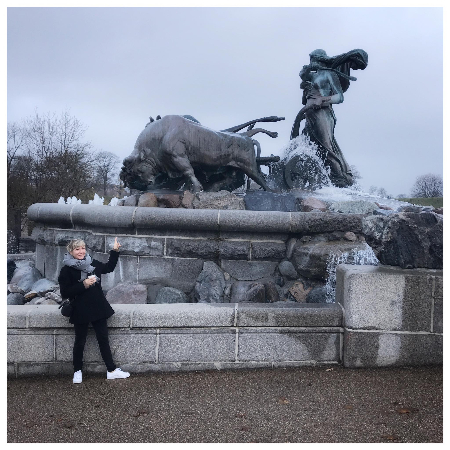 Julie in front of the statue of Gefion	

What are the trademarks of Nordic design and furniture?
Compared to other designs, Nordic design is more on the minimalistic side. Many pieces are made with high-quality materials like oak and are built to last. It requires a special skill set to bend the wood and make it robust, so Nordic design and furniture are tokens of great craftsmanship and seamless design.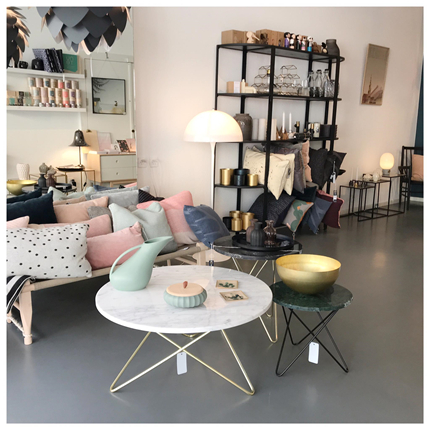 A glimpse

 insid

e 

the store
What are your favorite Nordic designers or design stores?
One of my favorite stores in Copenhagen is FDB Møbler. It's a really old danish brand that collaborated with young architects and designers in the 1940s. It closed down in the 80s or 90s and nothing was sold or produced until it reopened in the early 2000s. By that time, many of the young designers had become famous and internationally known. So until today, FDB Møbler is selling pieces from various famous danish designers but for a price that is modeled after the architects' pre-fame status. I also love the lamps from Le Klint or Louis Poulsen, the interior design stores Illums Bolighus and Dora, and I recently discovered the very stylish AYTM.
Want to learn more about Copenhagen and Julie's fascinating Scandinavian background? Then read on and get her personal recommendations on Denmark's captivating capital in this blog post!
Meanwhile, get matched with the best Copenhagen has to offer by requesting a free tailor-made itinerary at The Trip Boutique:
REQUEST FREE ITINERARY TO COPENHAGEN