Respectful Traveler: Personalization, Sustainability, and Compromise
Everyone has their own favorite style of traveling and so does each of our team members! In this new series, you will see how the people behind The Trip Boutique enjoy exploring the world. Today we introduce our CTO Xavier, who used to live in Barcelona and so knows a thing or two about the dangers of over-tourism. Thus, Xavier's goal is to remain a respectful traveler and avoid mass tourism. Below he shares his tips on how to foster new relationships with locals as well as existing ones with fellow travelers when on the road while leaving behind the smallest footprint possible.
Don't Rely on Sponsored Recommendations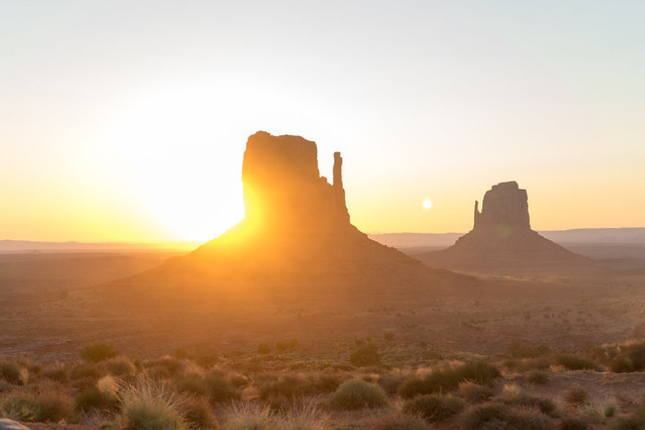 Plan your travels carefully so that you don't miss a sunset like this one in the Monument Valley, US 
– but be sure to follow honest recommendations rather than sponsored content!
We all know that researching a destination can be maddening. With tons of information flooding our devices – and brains! – we need to find a filter that singles out redundant and unsuitable sources. This is especially important when planning your travels, since choice overload is a real concern that can ruin your vacation before it even began (we previously wrote about decision paralysis here). 'A year ago, I went to Paris,' says Xavier. 'I normally prefer to travel to lesser-known destinations because then I don't need to sift through as much information before going. But since I wanted to take my wife to Paris, my only hope was to find a service that would take over that unpleasant part of vacation planning. This is how I first got into contact with The Trip Boutique – I became a customer!' Did he enjoy our custom-made recommendations? 'I did, but I was missing an app. So I coded one and became The Trip Boutique's CTO!' Please, more customers like that. 😉
 Xavier and his wife went to Paris with The Trip Boutique.
If you want to choose an online vacation planner, you need to be careful, though. 'I once chose another service when I traveled to Thailand and was very disappointed by how generic the recommendations were. One thing that these tips were lacking was personalization – it just felt as an aggregation of places that might have been well-curated… but not for me personally. The other thing that bothered me was that the service worked closely with influencers who would get their share from recommending me a place. Sadly, transparency is a big issue these days.' Another issue with paid promotion is that it funnels huge numbers of tourists to one place, leading to overtourism and lowering the local quality of life. Luckily, we at The Trip Boutique do not promote anything to our customers – the matches are based purely on personalization.
Getting to Know the Local Culture
Since Xavier used to live in Barcelona, he experienced the consequences of overtourism firsthand. 'Barcelona used to be a city with a soul. But then politicians opened the gates to mass tourism and the trouble started. Suddenly the city was flooded by people who were not interested in Catalan culture or the local community – they just wanted to consume, see as much as they possibly could in a short amount of time, and party all night.' This resulted in excessive noise, too much waste, and dramatic price as well as rent increases. For many locals, the city has become unlivable. 'I know many fellow engineers in Barcelona who struggle to pay the rent.'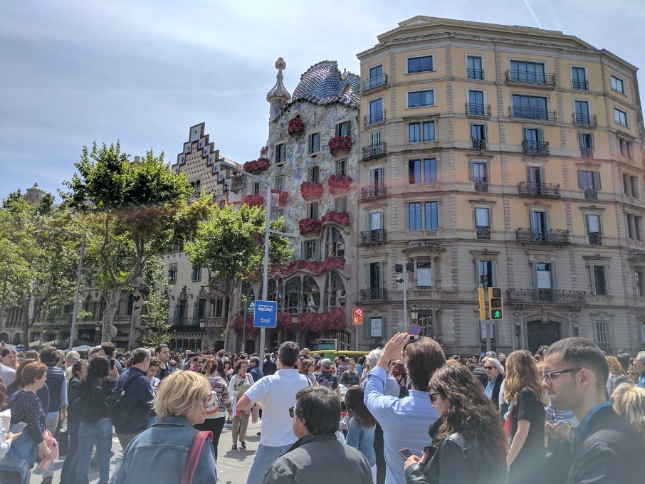 A piece of local culture: a celebration of St. Jordi's day in Barcelona 
– St. Jordi is the Catalan version of Saint Valentine's day and the tradition says to buy books and roses.
But Xavier also points out that to hate tourism would be a mistake. 'One should not forget that when Barcelona opened its doors to tourists, they brought money and visibility to the city.' Furthermore, it is important not to generalize – many tourists want to experience the city in a sustainable, respectful way. The key is to provide them with enough possibilities to do so. 'I believe that full personalization in the travel industry would be good for distribution, relieving the congestion in tourist hotspots and helping locals to reclaim their quality of life,' says Xavier. 'If visitors have the chance to visit off-center places matching their interests, they will also learn more about Catalan culture.'
As Xavier emphasizes, getting to know the culture of your destination is what makes you an informed, respectful traveler – the first step to a socially (and in the end also environmentally) sustainable travel. There is, however, no definite guide on how to immerse yourself in a culture different from your own. 'The community in Barcelona, for instance, is pretty tight and it might be tough for an outsider to get in, especially if they don't speak the language,' admits Xavier. 'But one way to access Catalan culture even if you don't understand a word is music.'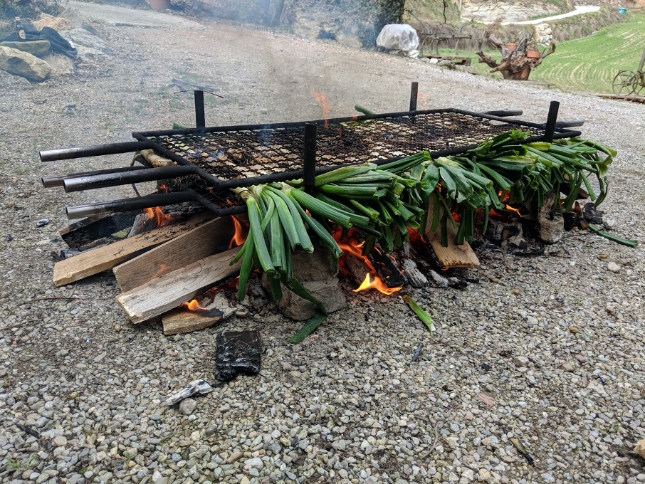 Music… and food! Pictured are calçots, a very unique Catalan dish prepared from a type of green onions.
A sort of universal language anywhere in the world, music will teach you a thing or two about the peculiarities of any destination. 'In Barcelona, the music is folkier than for example in Madrid. Our songs are mostly sung in Catalan, and even if you don't speak it, you realize that it sounds softer than Spanish. Historically, Catalonia was a trading area, not interested in war or invasion. So the language developed accordingly – there are no strong words in Catalan. Actually, it is quite difficult to swear in Catalan; when we fight, we automatically switch to Spanish!' laughs Xavier. The main takeaway? Wherever you go, music can open the doors to understanding and respecting local culture.
Find a Reliable Source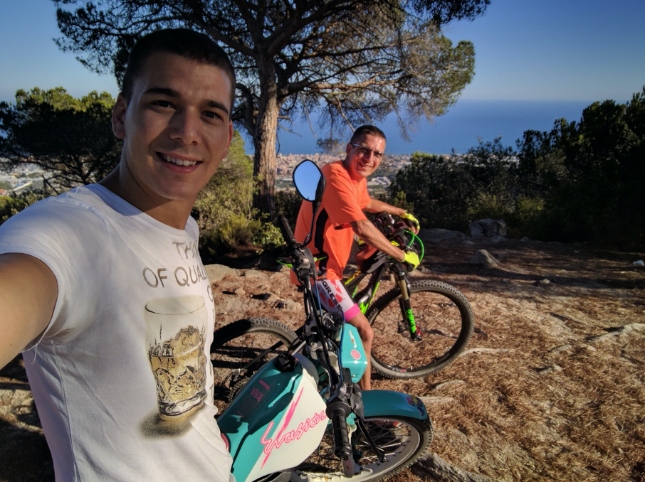 Xavier enjoying a bike route in Premià de Dalt near Barcelona.
Getting reliable tips and recommendations of what to visit and see during your travels will determine how satisfied you will be with your vacation overall. 'Many people coming to Barcelona end up on the crowded city beach because they simply don't know that just a few miles away in the north and easily accessible by train, there are small coastal towns – like Premià de Mar, Masnou, or Vilassar de Mar – with calmer, cleaner, prettier beaches.' Other tips from Xavier? 'In Barcelona, there are many hiking opportunities.' You can climb up to the Carmel bunkers to enjoy a great view of the city or visit Carretera de les Aigües, a green space with easy, comfortable trails popular with locals. In Carretera, visit Barcelona's amusement park Tibidabo built on the hill of the Collserola ridge to see the city from a giant Ferris Wheel!
Of course, an AI-based personalized travel planner can help you choose the right places and activities with more precision and efficiency than any friend ever could – especially if the database of possible venues is curated by qualified local experts! If you want to read more about personalization in travel tech and its advantages, we have written on that topic here.
Find Out What You Want – But Be Prepared to Compromise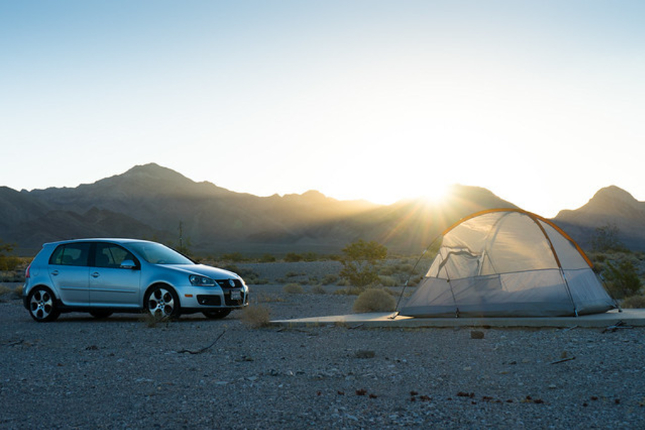 Camping in the Death Valley belongs to Xavier's best travel memories.
Having a good idea of what you're looking for when traveling is crucial. 'I spent 4.5 years in the US and during that time made two major road trips across the country. I skipped the cities and instead focused on camping in nature parks – I love how the raw American landscape makes me feel like I'm all alone in the world. Once during summer, my wife and I slept in the Death Valley. Since Americans prefer to check into a motel for the night rather than sleep in a camp, there was literally no one around for miles,' Xavier recalls. 'We were so alone and could see so many stars so clearly that the night made us feel small and vulnerable against the universe.'
While Xavier obviously knows what he's looking for – tranquility, nature, and solitude – he does occasionally have to compromise. 'My wife loves cities whereas I don't like crowds, noise, and the constant rush. But from time to time, I do get out of my comfort zone for her – and vice versa. Thinking about it, it's actually a good thing to be challenged by someone to explore what you normally wouldn't.'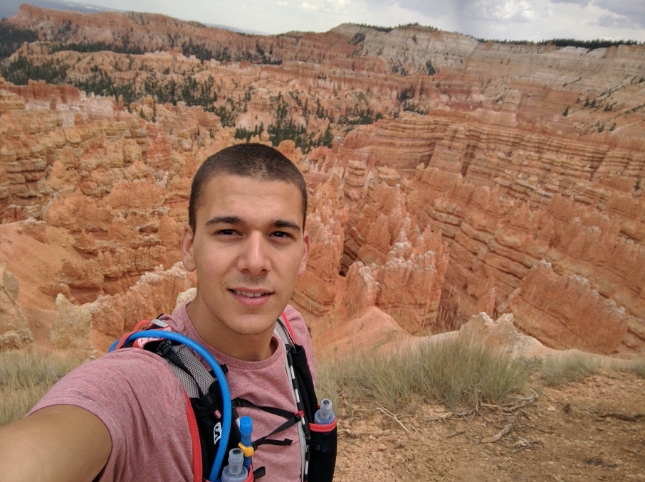 Breathtaking view over the Brice Canyon.
Sometimes, though, a compromise does not come so easily, and especially with a larger group, it can be difficult to coordinate everyone's travel preferences. Once again, personalized travel planners can help with that, as they provide a quick and painless way to navigate your destination. Simply fill in what you and your travel companions expect from the trip, and a personalized travel assistant will evaluate all the individual preferences in order to come up with the best match for everyone involved.