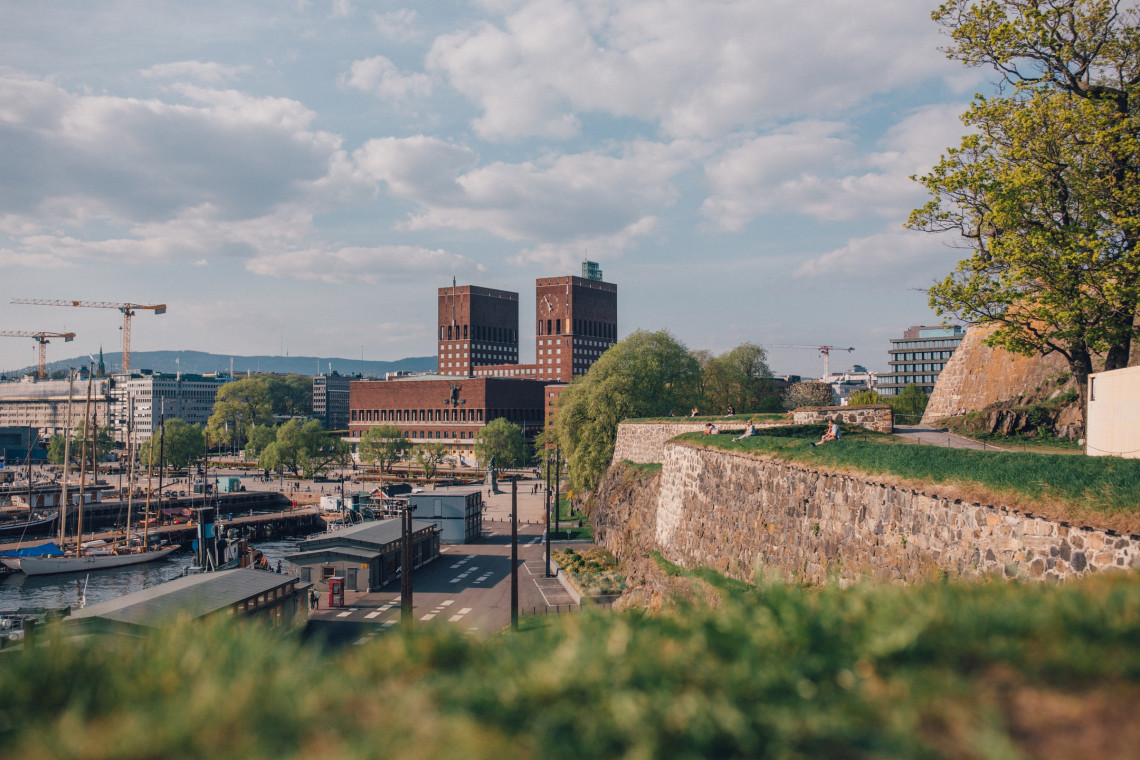 OSLO – EVERYTHING YOU NEED TO KNOW BEFORE YOU GO
Location
Oslo, formerly known as Kristiania, is Norway's capital and the country's largest city. It is located in the south of Norway at the northernmost tip of the Oslofjord – which consists of 40 islands in total – and can be divided into 15 boroughs that surround the city center, called Sentrum, in a horseshoe-like shape. Oslo is populated with countless parks, bike paths, a serene waterfront, and gorgeous urban spaces that bestow the city with an air of leafy green tranquility. See our list below to check if you have everything you need to know about a trip to Oslo.
The Climate in Oslo and What to Pack
With heaps of snow in the winter and pleasantly mild temperatures in summer, Oslo is the perfect city to enjoy the seasons to their fullest and its convenient location allows visitors to partake in a multitude of seasonal activities such as skiing, ice skating, boating, kayaking, island hopping, picnicking, and much more. To be able to relish these activities, however, visitors need to be aware of Oslo's temperatures and weather conditions and prep their suitcase accordingly.
1. TEMPERATURES
April - May:
Average temperatures: 4,5 to 10,8°C (40.1 to 51.44°F)

Min.temperature: -2,4°C (27.86°F)

Max. temperature: 25,2°C (77.36°F)
June - August:
Average temperatures: 15,2 to 16,4°C (59.36 to 61.52°F)

Min. temperature: 6,1°C (42.98°F)

Max. temperature: 30,5°C (86.9°F)
September - October:
Average temperatures: 6,3 to 10,8°C (43.34 to 51.44°F)

Min. temperature: -0,2°C (31.64°F)

Max. temperature: 22,5°C (72.5°F)
November - March:
Average temperatures: 0,7 to -4,3°C (33.26 to 24.26°F)

Min. temperature: -15,3°C (4.46°F)

Max. temperature: 13,2°C (55.76°F)
Source: Statistics Norway (min./max. temperatures from 2006)
2. WEATHER AND WHAT TO PACK
Spring
Spring in Oslo not only starts late but is also highly unpredictable. The weather may change within seconds so better be prepared for anything. Since this is the rainy season for European countries, bring a rain jacket, a windbreaker, umbrella, and waterproof shoes with a good sole in case you plan on exploring Oslo's rugged fjord. Temperatures are still low so you should pack clothes that you can easily layer up and put on or off in case the weather decides to suddenly change on you.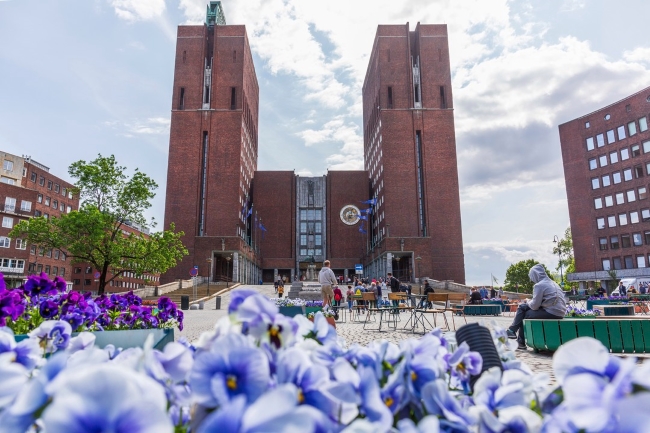 Credits: VISITOSLO / Didrick Stenersen
Summer
Although the weather is a lot warmer and friendly during Oslo's summer months, it can still get quite cold, especially during the night. We, therefore, recommend you wear long sleeves – also because there are plenty of hungry mosquitoes waiting for some bare arms – and take a cozy sweater or coat to cuddle up. Rain is still likely to fall so bring a waterproof jacket and shoes to keep you dry, especially if you want to explore the city from a boat or ferry.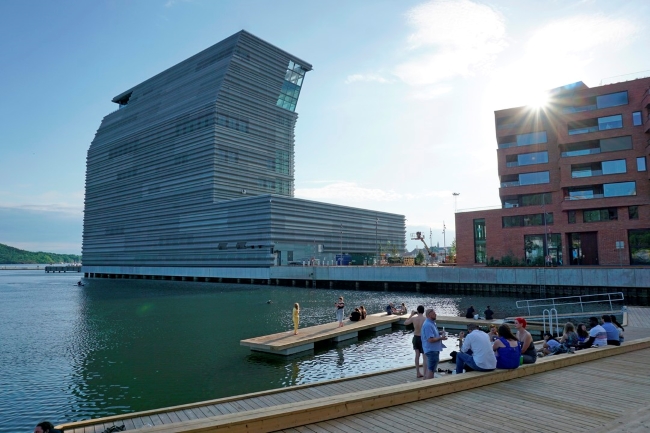 Credits: VISITOSLO / Tord Baklund


Fall
As during Spring, a visit to Oslo in fall is likely accompanied by rain and wind but you might also experience some last remnants of summer so bring clothes that can protect you from both rain and wind and are easily layered up so that you can adjust easily during the day. Likewise, the temperatures could plummet down to zero and wool is the best way to beat the cold so tag your favorite wool sweater and socks along.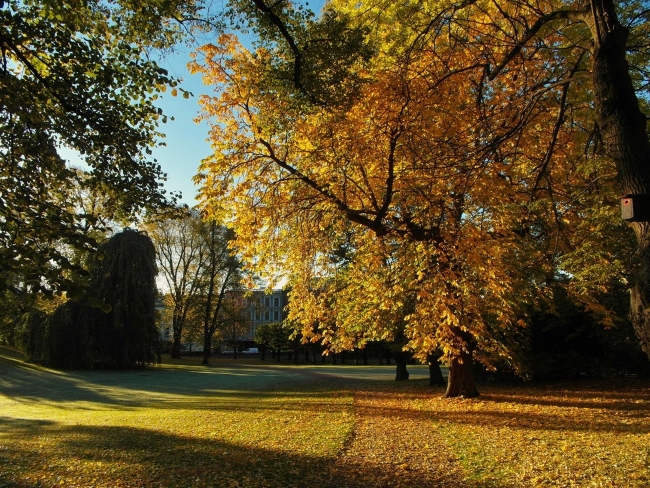 Credits: VISITOSLO / Todd Baklund
Winter
If you visit Oslo during winter, then your clothes should have but one purpose: keep you warm. All your woolen clothes should go into your suitcase, as well as thin layers to stack up, and a pair of thermal underwear is a must. Packing a scarf, hat, puffy coat, and gloves go without saying but also don't forget to bring a pair of warm, waterproof boots that allow you to dash around in the glistening snow. In case you want to participate in some snowy activities like skiing or tobogganing, you might also want to pack your winter gear and some snow goggles.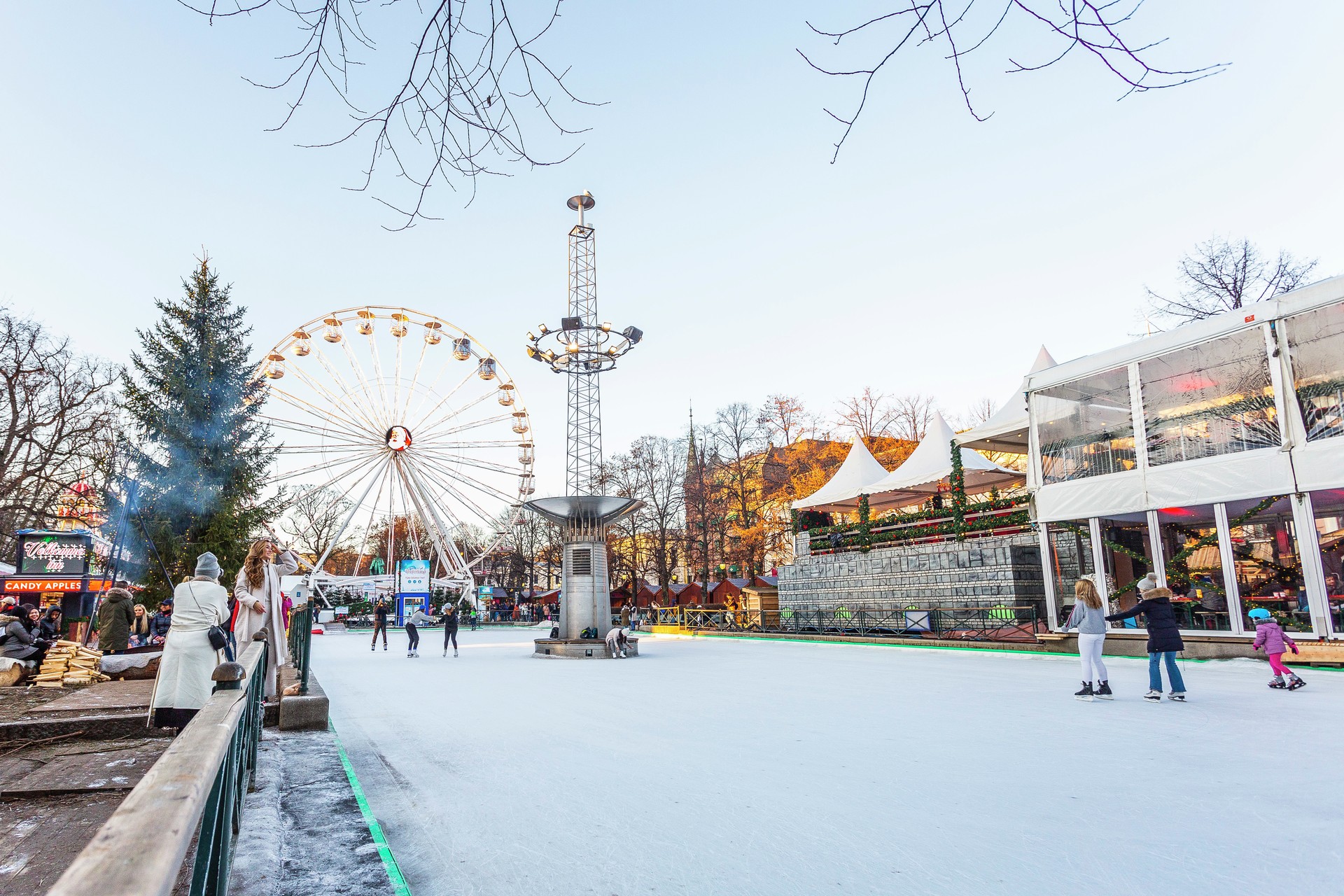 Credits: VISITOSLO / Didrick Stenersen
Year-Round
No matter what season, you should always protect your skin from the sun so bring your trusted sunscreen, and don't forget your sunglasses and a hat in case the sun blesses you with a visit! If you want to experience one of Northern Europe's most sacred traditions – the sauna – or if you want to test the fjord's icy waters, you might also want to pack a swimsuit, towel, and flip flops. Although many saunas in Oslo prohibit wearing swimsuits, others like the fjord saunas make it mandatory, so better take your suits to be prepared.
Transportation – Curated by VisitOSLO
Oslo offers convenient public transportation, and short distances make it easy to get around by walking or biking.
1. PUBLIC TRANSPORTATION – RUTER
Ruter is the name of the public transport system in Oslo and the surrounding county, Akershus. City buses, regional buses, trams, subway/metro, local trains, and ferries (except the Bygdøy ferry to the museums) are included in Ruter's ticket system. Tickets can be purchased from any of Ruter's sales points and they cost NOK 20/40 extra when purchased on board. To travel by subway/metro or tram, you must always pre-purchase a ticket.
Oslo Pass advantage: Free travel in zone 1 and 2.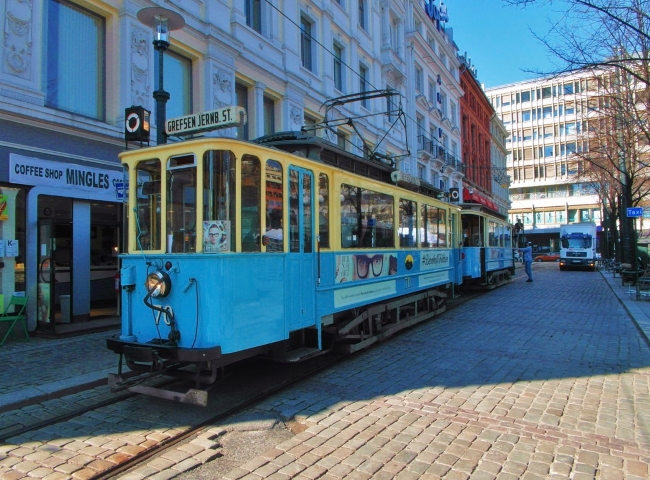 Credits: VisitOSLO / Tord Baklund
2. FERRIES – TO THE ISLANDS
The ferry boats from Rådhusbrygge 1 (City Hall Pier 1) take you to the islands of the inner Oslo Fjord.
Line B1: Hovedøya > Bleikøya > Gressholmen > Lindøya øst > Lindøya vest > Nakholmen > Hovedøya (all year)
Line B2: Hovedøya > Lindøya vest > Nakholmen > Hovedøya (June-August)
Line B3: Hovedøya > Bleikøya > Lindøya øst > Hovedøya (June-August)
In summer, the ferries operate from early morning until late at night; in winter there are only 7-8 departures per day.
Tickets:
All Ruter tickets (tickets for public transport in Oslo) are valid on the ferries. Tickets are also not sold on the islands, so buy your tickets in advance or use Ruter's mobile ticket app.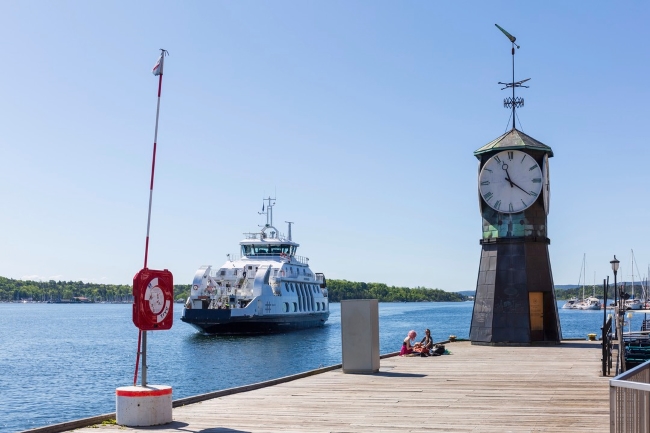 Credits: VISITOSLO / Didrick Stenersen


3. FERRIES – TO BYGDØY AND THE MUSEUMS
The ferry to the Bygdøy peninsula operates between March and October. Departure every 30 minutes from City Hall Pier 3.
1. stop Dronningen: Norwegian Museum of Cultural History, Viking Ship Museum, and Oscarshall
2. stop Bygdøynes: Kon-Tiki, Fram, and Norwegian Maritime Museum
Tickets:
Båtservice ticket office on City Hall Pier 3: 52 NOK one way, 78 NOK return
Onboard: 62 NOK one way
Free with the Oslo Pass (See more info about the Oslo Pass below under Practical Information). Please note that Ruter's regular public transportation tickets are not valid on the ferries to Bygdøy.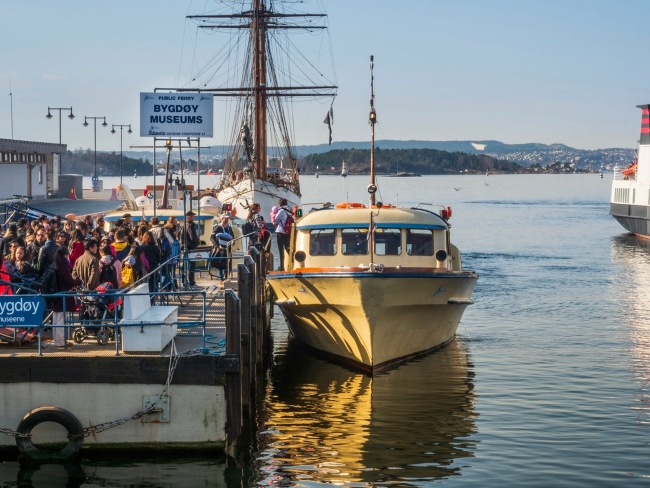 Credits: VISITOSLO / Didrick Stenersen
4. CITY BIKES
Explore Oslo on a city bike – a convenient and environmentally friendly way to get around in the city! The bikes can be found at 250 stations in and around the city center. If a rack is full or empty, the next one is always close by. The status (empty/full/available) of each station can be seen in the Oslo Bysykkel app or in the map of city bike stations.
Registration and prices:
For subscriptions registered at www.oslobysykkel.no:
Full season (April to November): 399 NOK
1-day pass: 49 NOK
Once you have paid for your subscription, you can pick out a bike using the Oslo City Bike app.

Note: You can only use the same bike for up to 60 minutes before you need to park it at a city bike station. You may then pick up another bike at the same or any other bike station.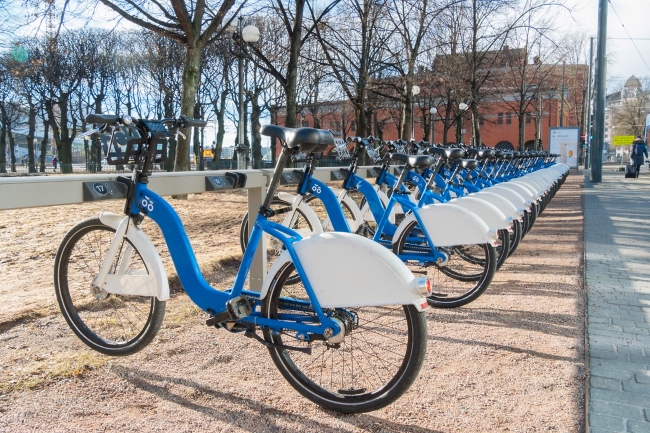 Credits: VISITOSLO / Didrick Stenersen
5. E-SCOOTERS – VOI
Voi has e-scooters for rent all over Oslo. Download the Voi-app onto your iPhone or Android device and discover the city on two wheels.
VoiPass 24h:
With the VoiPass 24h, you can ride as much as you want for a fixed price. Find out more about the pass under the "Wallet" tab in Voi's app.
This is how you use Voi's scooters:
You can easily find a free scooter and unlock it with the Voi app. In order to use the electric motor, you need to be moving already: Kick three times, before pressing the green button.

Only one person per scooter, riding together with someone else is not permitted. Wearing a helmet is recommended.

Use bicycle lanes or ride on the right side of the road. You can also cycle on sidewalks but only at walking speed and if there is enough space. Pedestrians should not be inconvenienced by you.

Respect traffic rules, otherwise, you can be fined. The use of the scooters while intoxicated is not allowed.

Park your scooter without blocking the sidewalk, alleys, or entrances. Remember that people with disabilities need to be able to use the sidewalks as well.
Learn how to ride safely in just 15 minutes by taking the Voi driving school and get 25NOK worth of free rides. Voi also has e-scooters in other European cities, like Stockholm, Copenhagen, and Paris. Find all locations on Voi's website.
6. TAXIS
When it comes to Taxis and Uber, Oslo is a little different than some other European cities: The former are quite hard to flag down and the latter is not very well established and likely won't be accessible to you. It is advisable to arrange a Taxi beforehand if, for example, you need an airport transfer. It might come in handy to have the number of a local Taxi company saved in your phone, so here are a few we compiled for you to choose from:
Nordic Car Service:
The Nordic Car Service is a punctual and exclusive passenger transport in the Oslo area with luxury cars and minibusses. The company emphasizes high levels of service and comfort and is available 24 hours a day, 365 days a year. Airport transfers, sightseeing, meetings, shopping, and weddings – vehicles and professional drivers are available for all occasions. The drivers wear uniforms and speak English; some also speak Spanish and French. Nordic Car Service can also offer transport by helicopter, private jet, and coach in cooperation with Pegasus Helicopter, Sundt Air, and Unibuss Tur.
Telephone number: +47 22 55 72 33
Lux Limo:
Lux Limo is a private chauffeur service that offers all types of transport services with luxury cars and personal service. It includes tailor-made solutions for airport transfers, sightseeing, shopping trips, weddings, and all kinds of events, and can also provide concierge services, security services, and everything else you might want to make your experience more comfortable.
Fixed price on premium transport services between Oslo and Oslo Airport at Gardermoen with meet & greet service included.
Business-class 1–4 pax: 1190 NOK one way
First-class 1–3 pax: 1490 NOK one way
Minivan 5–8 pax: 1690 NOK one way
Minibus 9–16 pax: 2590 NOK one way
Bus 17–54 pax: 3790 NOK one way
Telephone number: +47 93 00 02 19
Oslo Taxi:
Oslo's largest taxi company offers ordinary taxi services, airport taxi (fixed prices to Oslo Airport), maxi taxi (5–16 passengers), sightseeing tours, wedding transport, karaoke taxi, and package deliveries. You can book your Taxi at oslotaxi.no, in the app Taxifix and by calling tel. 02323 (from Norwegian phones).
Telephone number: +47 22 38 80 90
Hønefoss Taxi:
Hønefoss will meet all your transport needs during your stay in the Ringeriks-region. Special prices on return journeys from Gardermoen airport/Oslo by small taxi or maxi taxi.
Telephone number: +47 32 12 19 00
Practical Information
1. NORWEGIAN CURRENCY AND HOW TO GET IT
The currency used in Norway is called the Norwegian Krone (NOK) and one Krone can be divided into 100 øre (cents). If you want to exchange your currency into Krone or vice versa, you can do so at the Oslo Visitor Centre, FOREX bank Norway, Money Exchange Scandinavia, or Ria Currency exchange. Debit and credit cards are accepted in most places in Oslo but it's still good to have some cash with you just in case. You can check the current exchange rate with this currency converter.
2. OSLO PASS
The Oslo pass is a handy tool that allows visitors to navigate the city more easily. The pass includes free public transport, free admission to museums and sights, and discounts in restaurants, sightseeing, and more. You can choose the duration of the pass yourself and children and adults receive a discount. For more information on where to get it, how to use it, and what's included, check out the Oslo Pass website.
3. OPENING HOURS
Opening hours can vary quite a bit in Oslo so we recommend you check each store individually but generally, most stores are closed on Sunday.
4. SAUNA ETIQUETTE
Speaking of Saunas, there are a few things you should be aware of and respect before taking a steam in Oslo. It's customary that sauna goers take a shower before entering the steam room; a quick rinse won't do here, thoroughly wash everything with soap and rinse well until you're sparkling clean. No matter if swimsuits are allowed or not at your chosen sauna, it's important that no part of your body ever touches the wooden benches or floor to prevent bacterias from spreading, so be sure to take a towel and cover yourself or/and the wood with it. Saunas are a place of relaxation and tranquility and quietness is highly appreciated among visitors except when it comes to pouring more water over the hot stones – always ask if everyone is okay with more steam and heat before you let the water whizz.
5. HOLIDAYS
On national or international holidays like Christmas, Easter, and the International Workers Day, most shops and attractions stay closed in Oslo. You can view the upcoming holidays and their dates here.
6. USEFUL NORWEGIAN PHRASES AND WORDS
Hello – Hallo

Goodbye – Ha det

Thank you – Takk skal du ha or thanks – takk

Yes – Ja

No – Nei

Good morning – God morgen

Please – Vær så snill
7. STORAGE SPACES FOR YOUR LUGGAGE
You can find lockers to store your luggage at the Oslo Central Station, at the Oslo Bus terminal, and the DFDS, Stena Line, and Color Line ferry terminals.
8. ADAPTER
Norway uses the standard European socket with two prongs so you need a type C or F adapter.
For more practical information, check out this list by VisitOSLO.