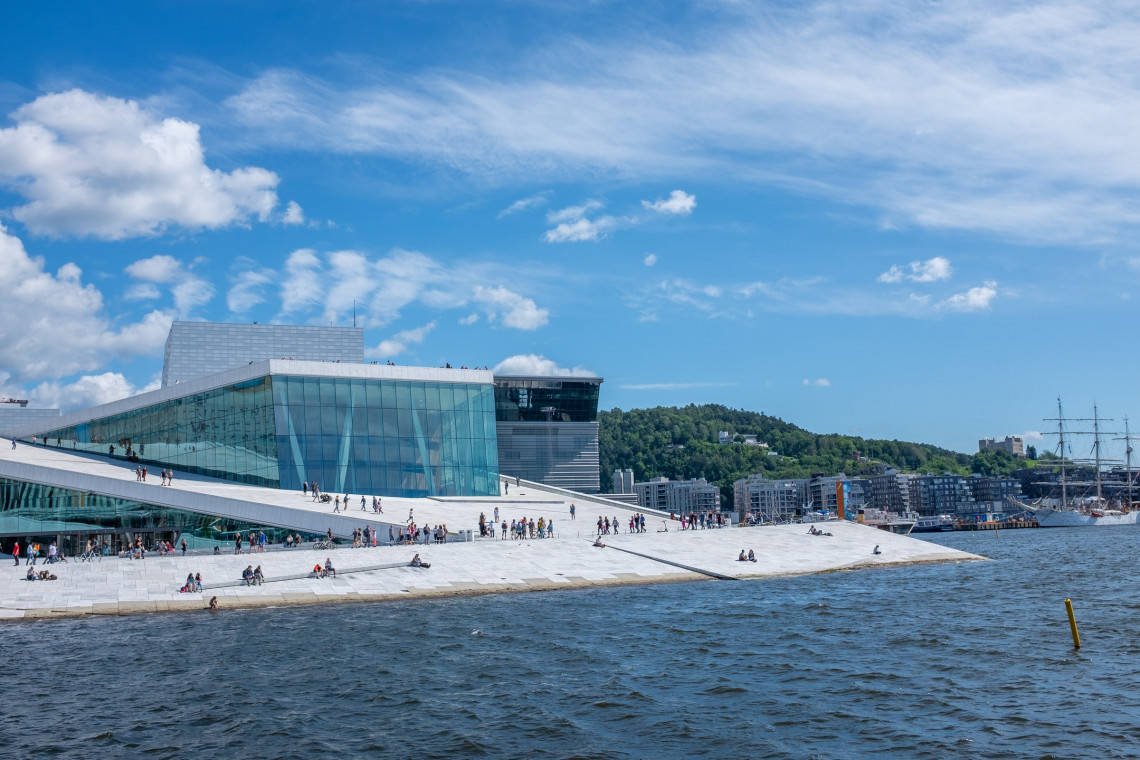 TOP 11 THINGS TO DO IN OSLO FOR CULTURE BUFFS
While Norway is renowned and traveled for its frozen north, deep fjords, dramatic mountainsides, and mythical forests it would be a pity to miss the cities and urban areas such as Oslo because these cultural melting pots have just as much to offer. Remnants of the ancient Viking culture, expressionistic art, Nordic cuisine, pioneering literature, and sleek architecture are just a few examples of why Oslo is worth visiting and should be on the very top of every culture buff's bucket list!

To help you acquire a taste for Norway's exuberant capital, we at The Trip Boutique created a cultural amuse-bouche featuring a rich flavor palette of places and urban activities for you to get an idea of how your Norwegian city adventure could look like once it's safe to travel again. Below, you'll find our list of the top 11 things to do in Oslo.
1. Meet Norway's Nation of Explorers
Like many other nations, the Norwegians have a long history of exploring and discovering foreign places and uncharted landscapes. Growing up in conditions that are harsher than most, Norwegians are known for being extremely venturesome and bold. So, one of the best things to do in Oslo is to learn about their exciting enterprises and Norway's adventurous nation of explorers by visiting the city's manifold museums.
The Fram Museum, for example, exhibits the daunting venture of Fridtjof Nansen and his five companions crossing Greenland's frozen heart for the very first time in 1888-1889 as well as the strongest wooden, polar ship – called the Fram – that safely carried Nansen and Co. across the icy water. On a warmer yet equally dangerous note, The Kon-Tiki museum tells the story of Thor Heyerdahl, a Norwegian explorer who sailed from Peru to Polynesia in 1947 using nothing but a basswood raft called the Kon-Tiki. Needless to say that Heyerdahl's daring expedition became world-famous as every nation held its breath, watching the Kon-Tiki travel across the Pacific Ocean.
2. Watch the Sunset from Oslo's Architectural Iceberg
Designed after the image of a majestic iceberg rising from the deep sea, Oslo's jaw-dropping Opera House towers over the city's harborfront and invites visitors to not only enjoy some of Norway's best operas and ballets but also encourages them to observe the cityscape and adjacent fjord from a new perspective. The elegant building's slanted roof bows down to the ground so that pedestrians can saunter to its top and gape at the gorgeous surroundings or be captivated by the outdoor performances that the Opera organizes year-round. And if you're a sunset chaser looking for higher grounds, this is the perfect spot to bathe in the dazzling light of the golden hour and watch day turn into night over the city's waterfront – with such magnificent views, it's no wonder that this architectural masterpiece is highly regarded as one of Oslo's top attractions!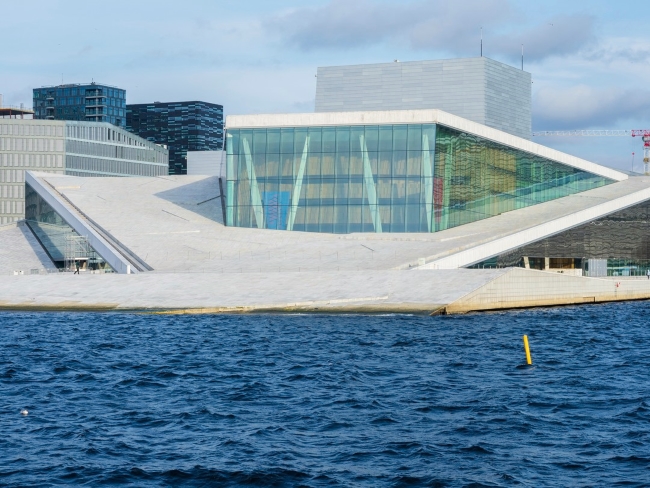 Credits: VISITOSLO / Didrick Stenersen
3. Get Introduced to the Viking Way of Life
The former seafaring Norse people of southern Scandinavia have been captivating historians, anthropologists, and culture enthusiasts for centuries; there's just something about this fierce, unapologetic folk that inspires awe and admiration around the world. Norway – as one of the Vikings' former homelands – is peppered with traces and memorabilia of this adventurous time and the remnants of the mighty Viking culture still resonate in the Norway we experience today. If you are like us, intrigued by the mighty Vikings and long to learn more, then one of the Oslo things to do during your trip is to follow their footsteps and glimpse into the interesting lives they lead.

Oslo's Museum of Cultural History is home to many cultural artifacts and foreign treasurers but there are two major exhibitions that are all about that Viking way of life. While the Viking Ship Museum exhibits the beautiful craftsmanship that brought forth the Viking's fleet of sea-going ships, the Viking Age Exhibition displays objects and articles from Viking war, life, and travels and reveals how their society changed over the centuries. If you're more of a multimedia kind of gal or guy, however, then the tech-savvy Viking Planet with its modern, digital experience, VR cinema, and hologram theatre might be more your cup of tea.
4. Test Your Limits with the Fjord's Icy Waters
What is Oslo famous for? Exactly, its breathtaking fjord and deep blue sea, but with water temperatures rarely reaching the 20°C (68°F) mark in summer, the Oslo fjord is not for the faint-hearted. If you can't resist those blue ocean depths but also don't care for being turned into a human popsicle, then Oslo's Fjord Saunas can help you heat up before taking the leap of faith.
5. Unearth Humanity's Core at Frogner Park
Gustav Vigeland is – apart from Edward Munch – one of Norway's most renowned artists, and exploring his moving work is undoubtedly among the top things to do in Oslo. His masterpiece of an installation at Frogner Park is an ode to Humanity and depicts human emotions, actions, and relationships with uncompromising honesty; the statues' expressions are so utterly human that one cannot help but feel with and for them. The park also offers a gorgeous green space for a stroll or to enjoy the crisp Oslo air, and if you're enticed to find out more about Vigeland's revolutionary art, you can head over to the Vigeland Museum and dive into the artist's fascinating world of sculptures.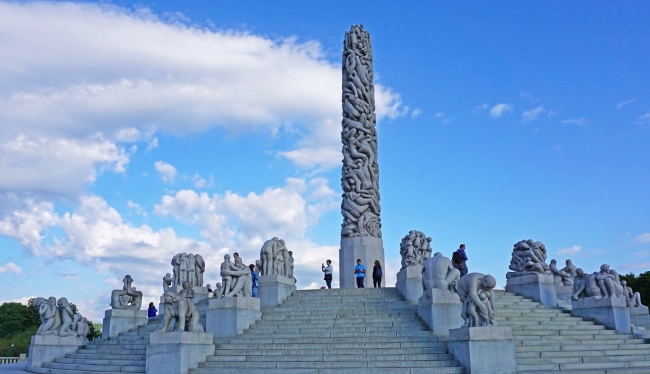 Credits: VISITOSLO / Didrick Stenersen
6. Sample Multicultural Flavors at Mathallen
Food is deeply rooted in Norwegian culture and Oslo boasts an array of Nordic restaurants, brimming with culinary excellence but in case you're on the hunt for something more multicultural, then foraging through the countless food stalls of Mathallen is definitely one of the things to do in Oslo. From Pizza over curry to oysters and Norwegian delicacies, this eclectic food court offers everything you need to catapult yourself to foodie cloud nine and the massive selection will leave your belly wanting for nothing. But be warned, Mathallen's flavor bursting plates are highly addictive – just looking at its rich Instagram feed will leave your belly growling – and you might just find yourself eating there for the rest of your trip which, let's be honest, wouldn't be the worst thing considering the level of deliciousness offered. ;)
7.

Things to do in Oslo

for Literature Lovers
With his pioneering descriptions of the Norwegian home, parenthood, and domestic life, playwright Henrik Ibsen was far ahead of his time and until today, is viewed as one of the founding fathers of modernism in theatre. Plays like The Wild Duck, A Doll's House, and Hedda Gabler shook the stage with their uncompromising realism and turned Ibsen into one of the most influential playwrights in the European tradition. If you time your trip right, you might be able to catch one of his impressive plays at Oslo's National Theater, which stages one of his stories at least once a year, and delve into domestic life in 19th century Norway or, you can also get to know Isben by visiting the Ibsen Museum, his former home, and get an idea of how the famous playwright lived and breathed.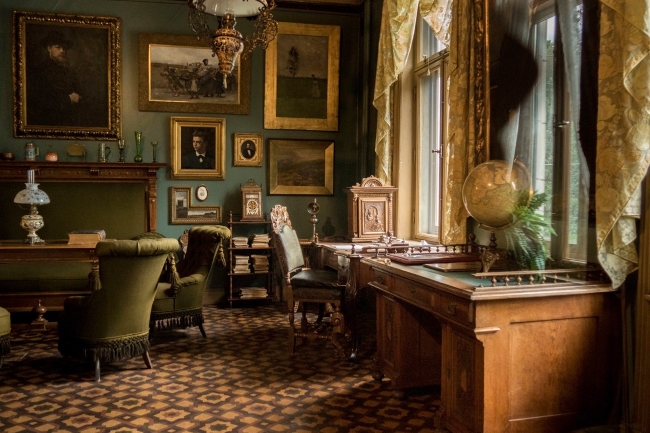 Credits: VISITOSLO / Didrick Stenersen
8. Be Moved by Edvard Munch's Extraordinary Expressionism
Speaking of pioneering work, Edvard Munch is likely the most renowned and influential Norwegian painter and his characteristic art is equally one of the most important things to see in Oslo because it draws viewers into the fascinating world of expressionism. With its large collection of paintings and photographs, the Edvard Munch Museum pays tribute to the painter's formidable work and is the perfect place to both experience his art up close as well as gaze into the artist's inner workings and painting process. Of course, you also cannot visit Oslo without taking in Munch's famous masterpieces – the Scream and Madonna – which reside at the National Gallery, a powerhouse of Norwegian and international art and a hotspot for culture and art buffs.
9. Unravel Oslo's Bohemian Grünerløkka
What used to be known as Oslo's working district, recently transformed into a melting pot of trendy eateries, progressive art galleries, flea markets, vintage shops, and record stores, and the once barren streets were revived with flashes of paint and colorful murals. This unquestionably cool district is the place to get your daily dose of urban culture and discover the quirky, hip side of Oslo. If the laid-back bohemian vibe that waves through the cute alleys is, however, not enough to convince you that leisurely strolling through progressive Grünerløkka is one of the things to do in Oslo Norway that you shouldn't miss, here are some of our favorite spots to change your mind:
10. Fall in Love with Oslo's Coffee Culture
According to a poll by Euromonitor in 2013, Norwegians drink about 7.2kg of coffee per person every year, so it's no wonder that Norway and especially Oslo have established a diverse coffee culture and mastered the art of creating the perfect latte, espresso, cappuccino, and whatnot. Often referred to as Norway's coffee capital, Oslo boasts a wide selection of cozy cafes, micro roasteries, and award-winning baristas to supply locals and travelers with a steaming cup of liquid gold. So, if the weather outside turns out to be anything but inviting and you're wondering what to do in Oslo on such a gloomy day, why not go on a coffee crawl and sample the best coffee creations the city has to offer.
Supreme Roastworks, for example, is a micro-roastery in Grünerløkka and apart from selling utterly delicious coffee beans, also has a World Brewers Championship winner as a barista and co-owner so that every single coffee is brewed to absolute perfection. For a more high-end coffee experience, head to Tim Wendelboe. The coffee shop and microbrewery might look like your regular neighborhood joint but the coffee is so exquisite that there's nothing quite like it. If you're a vinyl lover and want to hit two birds with one stone, you can also opt for Hendrix Ibsen where nitro coffee and a record store become one.
11. Twinkling Lights and Steaming Gløgg: The
Things to Do in Oslo in Winter
If you are visiting Oslo in winter, there's but one thing to do – embrace the cold and accept that you might lose a toe or two – just kidding. Although it really does get dark and cold in Oslo during the winter months, if you layer up some comfy clothes, nothing is stopping you from enjoying the city in its puffy, white winter coat. Especially if you're planning on experiencing a white Christmas because during December, the entire city is filled with twinkling lights and steaming Gløgg bestows the air with an irresistible, cinnamony smell that beats the cold within seconds.
So naturally, one of the best things to do in Oslo in December is touring the city's beautiful Christmas markets and trying all the tasty treats and drinks offered by the numerous stalls. Partaking in the Norwegian Christmas tradition is a great way to rub shoulders with the locals and experience some of the culture's sacred rituals first hand. If you want to find out more about the markets and when they take place, you can find a detailed list here.
Credits: VISITOSLO / Didrick Stenersen
We at The Trip Boutique hope that we've convinced you to put Norway's exuberant capital at the top of your post-COVID travel list.
If you need help dreaming about exuberant Oslo or if you can't wait and already want to start planning, fill out the quiz on our website and get matched with restaurants, activities, and places in Oslo that perfectly match your style and taste!
REQUEST FREE ITINERARY TO Oslo